Quick and dirty, I will put together later more.
1.5 lbs stew beef, London broil, or top round.
Chicken Bullion or Knorr Chicken Stock Pack
2 tbs Tomato Paste or 5 oz can of Tomato Sauce
Salt, Pepper
16oz Guinness or other dark flavorful beer.
1 tbs Cider Vinegar or Juice of 1 lime.
1 tsp dry mustard
1 tbs Worcestershire sauce or Horseradish
2-3 tbs of butter
Carrots – to desire 1-1.5 Cups
Celery – 1 Cup
Onion – 1 Cup
Potatoes – 2 Cups
Cut beef to pieces of choice size, flour and brown in olive oil, or if excited and have it, bacon fat. 
Remove and set aside, then put in half cup of chopped onion and couple of cloves of garlic let them soften, not brown.  As they get ready, then deglaze with a beer of choice, Guinness or some other dark flavorful beer. 
Add back beef and season with fresh rosemary if you have it, and thyme.  Add a 5ounce can of tomato sauce or have small can of tomato paste.  Add either chicken bullion or knorr chicken stock pack, ( my favorite) and 32oz of chicken broth.  Salt and pepper to taste along the way, but be careful of the chicken bullion for over salt. 
Add some acid, either a little cider vinegar, or juice of a lime.  I sometimes add some dry mustard, or Worcestershire sauce or horseradish and or some butter if it needs body. 
Simmer till beef is nearly ready and tender, add cup to cup and a half of each carrots, celery, and a cup of larger cut onion depending on likes.  At least 2 cups of potatoes, then simmer till the veggies meet your doneness quotient.  Cut the veggies to the size you like.  I then crush some of the potatoes in the pot to give some body.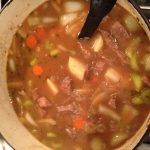 I think that is mostly it.  It is an art, not a science to me, so go with the flow.
Sometimes a little left over wine works, either white or red, if red, be careful a little goes a long way.